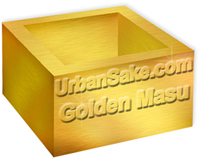 2012 zipped by in a flash. Where has the time gone!? I can only stare into the bottom of my empty sake cup and wonder.
For me, this year was a whirlwind of great sakes, old and new. It's also been a year of learning and teaching. I'm discovering that sharing my love and passion for sake is becoming one of the great joys in my career. If you're interested in learning more about sake, I hope to see you in one of my seminars in 2013!
My yearly "Golden Masu Awards" roundup is my biased take on the best, boldest and most bodacious brews that caught my eye and tickled my taste buds in 2012. Without further ado, I give you the winners…
---
"Best 720 Under $30"
And the Masu goes to:
Okunomatsu Tokubestu Junmai
It seems our economy improved some in 2012, but that didn't stop me from looking high and low for sake bargains. For a high quality 720 ml bottle of sake under $30, I found myself returning again and again to Okunomatsu Tokubestu Junmai. Retailing for a price between 25.00 and 27.99, this Fukushima sake has become a reliable standby for everyday enjoyment. Dry, smooth and delicious, this sake will pair well with many different kinds of food and I've enjoyed it with everything from roast chicken to pad thai. In New York City, the local grocery delivery service "Fresh Direct" even offers this sake for home delivery. What could be better than getting Okunomastu right along with your bananas, butter and brussel sprouts?! Without a doubt, this sake is an incredible value for the price – and a great way to support Tohoku! Kanpai!
---
"Best Junmai Ginjo Debut"
And the Masu goes to:
Fukuju Junmai Ginjo
These days, Junmai Ginjo is a crowded category in the sake market. Given this, it's hard to make an impression, but one sake this year did just that. Fukuju Junmai Ginjo was a sake I tried for the first time in 2012 and boy oh boy, what a treat. Made in Japan's Kobe region, this sake is smooth, delicious and an important achievement. The quality of sake coming over from Japan is always improving and Fukuju is a prime example of this. A smooth and delicious brew which is exceeding balanced and light on palate, this sake will seduce you. You can enjoy it with a wide range of foods – a true sign of a high quality sake. Try Fukuju and believe!
---
"Most Delicious Sake in Custom Packaging"
And the Masu goes to:
Tenryo Hidahomare
Junmai Ginjo
Some sakes try to distract from their lack of quality with a fancy bottle shape or a unique wrapping or bow. This kind of trickery only works once for most consumers. One brand that knows about handmade quality is Tenryo. They make the famous Tenryo Hidahomare Junmai Ginjo with its unique, hand-woven and locally-sourced bamboo basket packaging. This basket is not just a thing of beauty, but a reflection of the hand made quality of this most famous sake from Gifu prefecture. You can expect a versatile and delicious Junmai Ginjo with hints of its unique Hidahomare sake rice on the palate. This is one case where the packaging does match the beauty of the sake within.
---
"Best Nigori Debut"
And the Masu goes to:
Shichihonyari Junmai Ginjo Nigori
It's not everyday that a new nigori sake hits the market. Nigori, or cloudy sake, can be divisive among sake fans. Some love it, some… not so much. But I think the new Shichihonyari Junmai Ginjo Nigori maybe changing some hearts and minds this year. This nigori strikes the delicious balance between sweet and dry with a consistency that is a touch on the fuller side. It's perfect for pairing with grilled or fried foods. The Brewer even encouraged me to try this nigori on the rocks. What the? Well, I did and it was great! This was just the reminder I needed that our tastes and preferences are an ever evolving thing. When it comes to sake, let a fun new nigori get you out of your sake rut.
---
"Best Expensive Sake Worth the Price"
And the Masu goes to:
Tedorigawa Mangekyo Daiginjo
Some sakes in the upper echelon of quality can give you a serious case of sticker shock. However in some cases, the high price is worth it. Such is the case with Tedorigawa Mangekyo Daiginjo. The cost for a bottle of this elixir is upwards of $420 in a restaurant. Mangekyo has the transcendent taste of a perfect daiginjo. Smooth, soft and silky, this beautiful sake is aged at a low temperature for two years for added depth. Production of this sake is limited to only 400 bottles per year, adding rarity to it's many allures. I had the good fortune to taste this sake this year as part of a tasting set at a Tedorigawa event at Sakagura. Rare, expensive and worth it.
---
"Best in Show"
And the Masu goes to:
Masumi Arabashiri Junmai Ginjo Nama Genshu
For the first time, my "Best in Show" sake is going to a junmai ginjo… and what a jumnai ginjo it is. The yearly release of the Masumi Brewery's Masumi Arabashiri Junmai Ginjo Nama Genshu is an event anxiously awaited by many a sake fan, myself included. The reason this sake was picked is its infallible drinkability. When in season and fresh, this nama is so good, I'd take it on an IV drip – you just can't get enough. Bold, rich in fruit flavors on the palate and exceedingly smooth despite the 18% alcohol content, this dreamy unpasteurized brew is a consistent winner. So here's a toast to what you can call "Springtime in a bottle" a.k.a Masumi Arabashiri. This could very well be the perfect Nama!
---
So there you have it! Congratulations and Kanpai to all the winners! I'm looking forward to a sake filled 2013 with lots of sake sipping, learning and loving. My special thanks to all sake producers and drinkers I met in 2012 – let's make next near the year of sake in the USA! Kanpai and Happy New Year to everyone!
See Previous Golden Masu winners here: http://www.urbansake.com/category/golden-masu-awards/
https://www.urbansake.com/wp-content/uploads/2009/12/golden_masu_2.jpg
159
200
Timothy Sullivan
https://www.urbansake.com/wp-content/uploads/2016/04/janome-logov6.png
Timothy Sullivan
2012-12-30 15:52:43
2013-01-13 15:56:12
2012 Golden Masu Awards